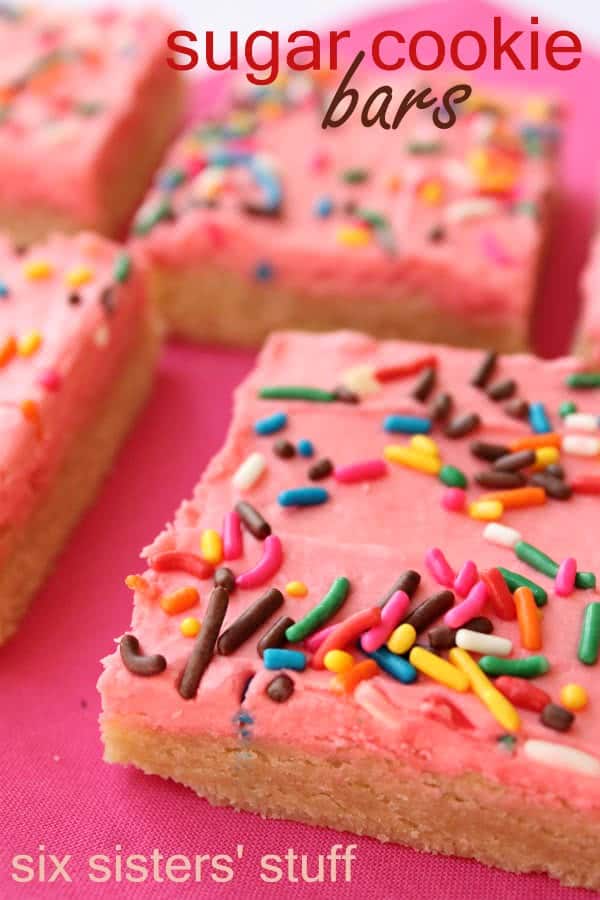 My husband's all-time favorite dessert is a sugar cookie. My mom makes the best sugar cookies, but I don't make them very often because it takes so much time to cut out the individual shapes, bake a million batches of them, and then decorate each cookie. It is seriously an all-day project!
This recipe is like an answer to prayers. 🙂
It is basically one HUGE sugar cookie baked on ONE cookie sheet . . . the prep time and bake time is so short . . . and you only have to frost one LARGE cookie.
And they taste SO GOOD.
I don't know if I will make sugar cookies again after trying this recipe . . .
So next time you are craving a delicious sugar cookie, but don't feel like doing all the work,
YOU HAVE TO MAKE THESE!!!
Sugar Cookie Bars:
1 cup unsalted butter, at room temperature
2 cups granulated sugar
4 large eggs
2 tsp vanilla extract
4 3/4  cups all-purpose flour
1 tsp salt
1 tsp baking soda
1. In a large bowl with an electric mixer, cream butter and sugar until fluffy. Add eggs, one at a time, mixing after each egg. Mix in vanilla.
2. In a separate bowl whisk together flour, salt and baking soda. Add to wet mixture and mix just until combined. Spread on a greased, rimmed baking sheet (use a 13x18x1″ pan/cookie sheet).  The dough will be just like cookie dough- heavy and sticky- so it?s best to spray your hands with a little nonstick spray and use them to help mold the dough into the pan.
3. Bake at 375 degrees for 10 – 12 min, until light golden brown or until a toothpick comes out clean. Cool completely before frosting.
Mom's Frosting:
Frosting:
1/2 cup (1 stick) margarine or butter, softened
3 tablespoons milk
2 tsp vanilla
4 cups powdered sugar (more or less depending on how thick/runny you like it)
A couple of drops blue food coloring (or any other color) to get desired blue color (optional)
Combine all ingredients until well-blended. Spread on top of bars. Top with sprinkles if you want!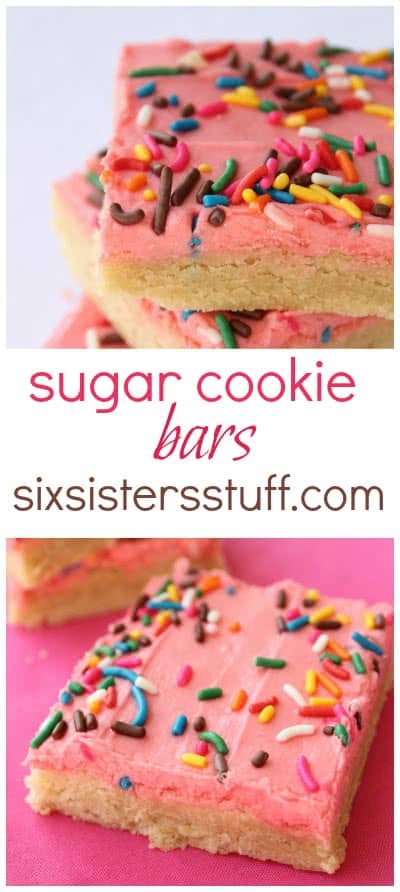 Here are a few more of our favorite desserts:
Lunch Lady Peanut Butter Bars
Lunch Lady Brownies
Congo Bars
Salted Nut Roll Peanut Bars
Butterfinger Blondies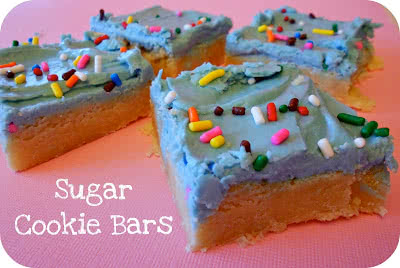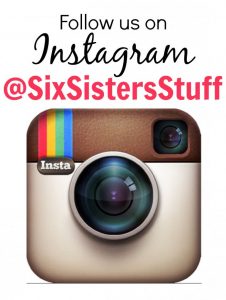 Adapted from The Repressed Pastry Chef
and Lady with the Red Rocker