I am a huge fan of anything I can throw in the slow cooker! I don't think there is a better feeling than knowing dinner is already taken care of at 10 am. The house smells delicious and everyone is in a good mood by the time dinner rolls around. The best part about these meatballs is the cheesy surprise inside!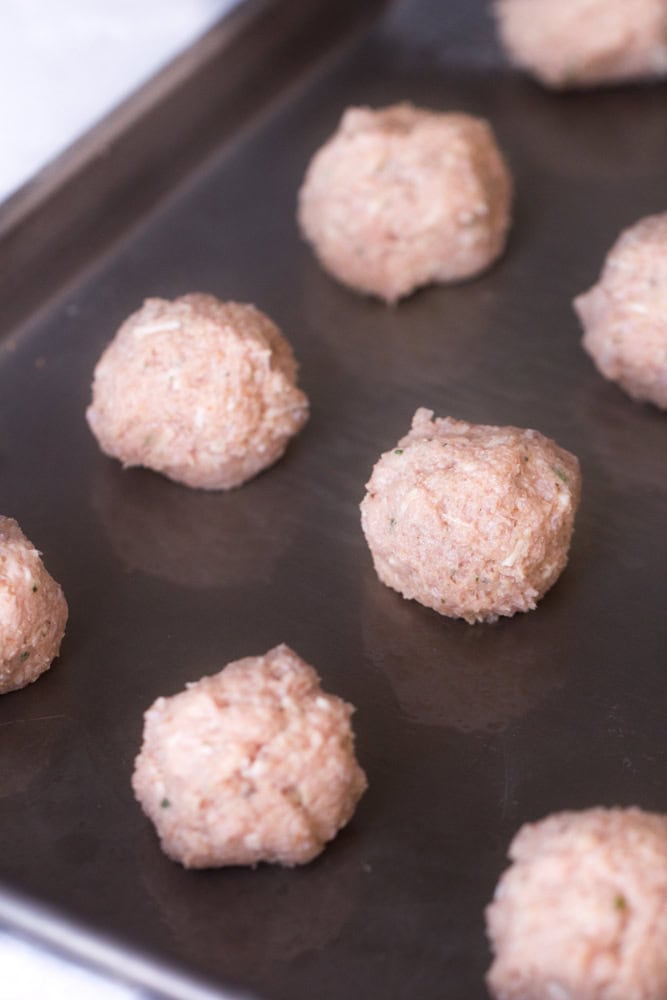 If you know someone who can make a picture of raw meat look good… send them my way! Turkey always throws me off because it's a much different color than the regular ground beef that you are used to. After mixing all of the meatball ingredients together I rolled the turkey around a slice of mozzarella cheese (check out my awesome shortcut in the ingredients!) and lined them up to be broiled. The broiling gives them a nice crispy, made fresh, meatball taste without all the hassle! Throw them in the slow cooker with your favorite sauce, and dinner is done! We served these over whole wheat pasta, but we will try the zucchini noodles next!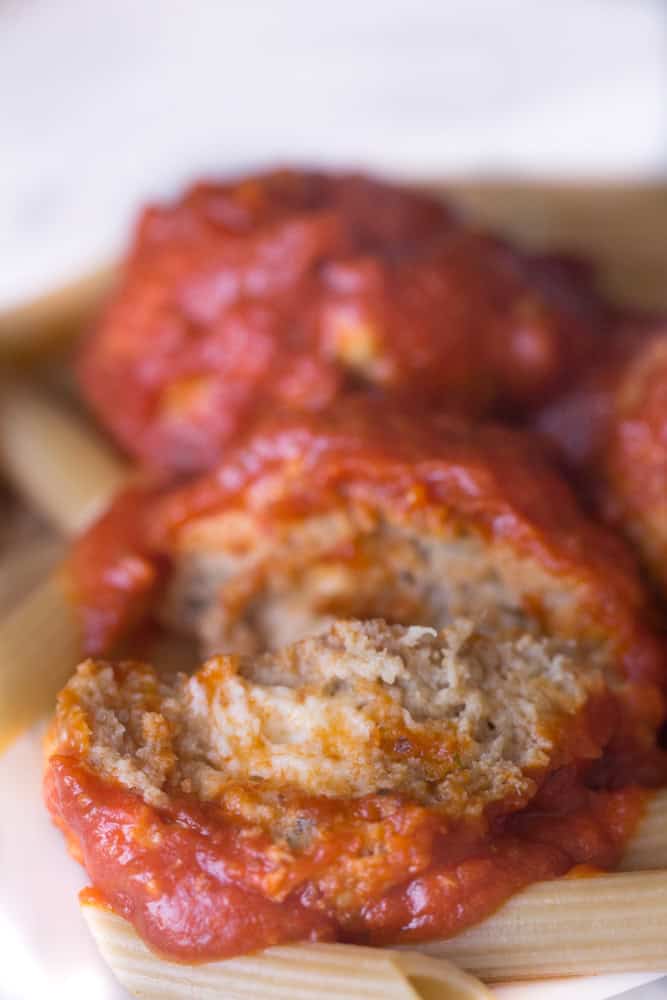 Serves: 20 Meatballs
Slow Cooker Mozzarella Meatballs
25 minPrep Time
4 hrCook Time
4 hr, 25 Total Time
Ingredients
1/4 cup milk
4 eggs
1 lb ground turkey
1/2 cup Italian style breadcrumbs
1 tsp salt
1 tsp pepper
1 tsp garlic powder
3 mozzarella cheese sticks
1 (16 oz) jar spaghetti sauce
Whole wheat noodles or Zucchini Noodles, cooked
Instructions
Preheat your oven to high broil.
In a bowl, whisk together milk and eggs.
Stir in turkey, breadcrumbs, salt, pepper, and garlic powder. Mix until well combined.
Cut cheese sticks into 7 pieces.
Roll turkey into 1 inch balls around one piece of cheese and place on a greased cookie sheet. This should make about 20 meatballs.
Broil on high for 5-7 minutes or until the outside of the meatballs are golden brown.
Transfer to a slow cooker and pour jar of spaghetti sauce on top.
Cook on low for 3-4 hours or until meat has cooked through.
Serve on top of your favorite whole wheat noodles or zucchini noodles.
7.8.0.1
2489
https://media.sixsistersstuff.com/recipe/slow-cooker-mozzarella-meatballs/