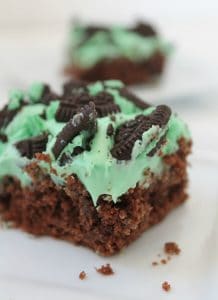 Ever since I was young, I have loved anything that involved mint and chocolate. Thank goodness holiday recipes use this combination in so many delicious ways! These brownies have a rich minty chocolate flavor with mint-marshmallow creme swirled in the brownies and mixed in the frosting . . . they are nothing short of amazing! Bonus: they use a brownie mix! It doesn't get any easier than that!
Ingredients:
1 (7 oz) container of marshmallow creme
1/8 teaspoon mint extract
8 drops green food color
1 box brownie mix (has to be the 9×13″ pan size)
Water, vegetable oil and eggs called for on brownie mix box
3/4 cup white chocolate chips
1 cup vanilla frosting (I just used store bought, but you could also use your favorite homemade recipe)
18 mint creme Oreo cookies, coarsely chopped (3 cups)

Directions:

1. Heat oven to 350°F. Spray 13×9-inch pan with cooking spray. In medium bowl, stir together marshmallow creme, mint extract and 4 drops of the food color until light green.

2. In large bowl, make brownie mix as directed on box, using water, oil, and eggs. Spread batter in pan. Drop 4 or 5 large tablespoonfuls of marshmallow mixture onto batter (reserve remaining marshmallow mixture). Gently pull table knife through marshmallow mixture and batter in S-shaped curves in continuous motion for marbled design. Spread evenly in pan.

3. Bake 25 to 28 minutes or until set. Cool completely, about 1 hour.

4. In small microwavable bowl, microwave baking chips on High 30 seconds; stir. Microwave 30 seconds longer; stir until smooth. Stir melted chips and frosting into remaining marshmallow mixture. Stir in remaining 4 drops food color until light green; spread over cooled bars. Sprinkle with cookies; press in slightly. Cut into bars.

PS- Do you love my yellow and gray chevron platter I served them on? You can get your own at Rosie Posie Designs!
Here are more of our favorite brownie recipes:
Reese's Brownies
Lunch Lady Brownies
Mom's Famous Chocolate Marshmallow Brownies
Raspberry White Chocolate Chip Brownies
Fudgy Brownie Recipe