With Thanksgiving day coming up, you need to plan how to cook the most important part of your meal: the TURKEY! While most people like to cook their turkey in the oven, we wanted to share with you our favorite ways to cook a turkey and have it turn out perfect every time!
How much turkey does each person need?
The first thing to think about is how much turkey do you ACTUALLY need to make.
If you are wondering how many people your turkey will feed – a good rule of thumb is that whatever your turkey weighs, that is approximately how many people it will feed (1 pound per person).

If you know you have a lot of small children, then you may be able to stretch it a little farther than that.
If you want to have leftovers, plan on 1 1/2 pounds of turkey per person.
This article from the HuffPost also is a great resource and gives you an idea of how much to cook per person.
If you are planning Thanksgiving dinner, be sure to check out all of our favorite Thanksgiving recipes:
How to thaw the turkey safely
There are a few ways you can thaw a turkey for your Thanksgiving feast.
We always say that the quickest way to thaw a whole turkey is in a bath of cold water.
Thawing in cold water takes about 30 minutes per pound.
One thing to know is that you will need to refresh the water every 30 minutes or so. We also will often add ice to the water to ensure that the water is very cold.
Another way to thaw your turkey is in the fridge.
Set the turkey on a cookie sheet because this will catch any liquid that could drip off your turkey while thawing. Be sure to have about 1 day of refrigeration for every 5 pounds of the turkey.
How to prep the turkey
Once your turkey is thawed, remove the packaging from the turkey.
Remove the giblet packets (they contain the gizzard and heart) and the neck is there too. Check both ends of your turkey for these packets because it is often found in the neck and end cavities.
STOP! There is no need to rinse your turkey – all that it will do is contaminate your sink. The bacteria you are trying to rinse off will die when it cooks in the oven.
Pat the turkey dry with paper towels.
Your turkey is now ready to cook! Choose one of the following methods to cook your turkey:
How to cook a turkey in a slow cooker:
Because of the size of a slow cooker, you will want to use a turkey breast or small turkey roast.
Using a slow cooker works perfectly if you only need your turkey to feed 8 or less people.
We get asked almost daily which slow cookers we use. CLICK HERE to see which slow cooker we used for this recipe!
To cook the turkey, spray slow cooker with nonstick cooking spray and place turkey inside.
In a small bowl, mix together the water and seasonings and spread evenly over turkey.
Cook on low for 8-9 hours (or until turkey is very tender and the seasonings have flavored the meat).
Insert a meat thermometer into the thickest part of the breast and make sure it reads at least 165 degrees F (75 degrees C) to ensure that your turkey is fully-cooked.
To eat, remove turkey from slow cooker and slice.
Another great perk to using a slow cooker is that you can throw in vegetables or stuffing in with the turkey, which takes care of a side dish at the same time.
Here is a great recipe that cooks the turkey and stuffing at the same time: Slow Cooker Turkey and Stuffing
Here is our favorite recipe to cook a turkey in a slow cooker: Slow Cooker Turkey Breast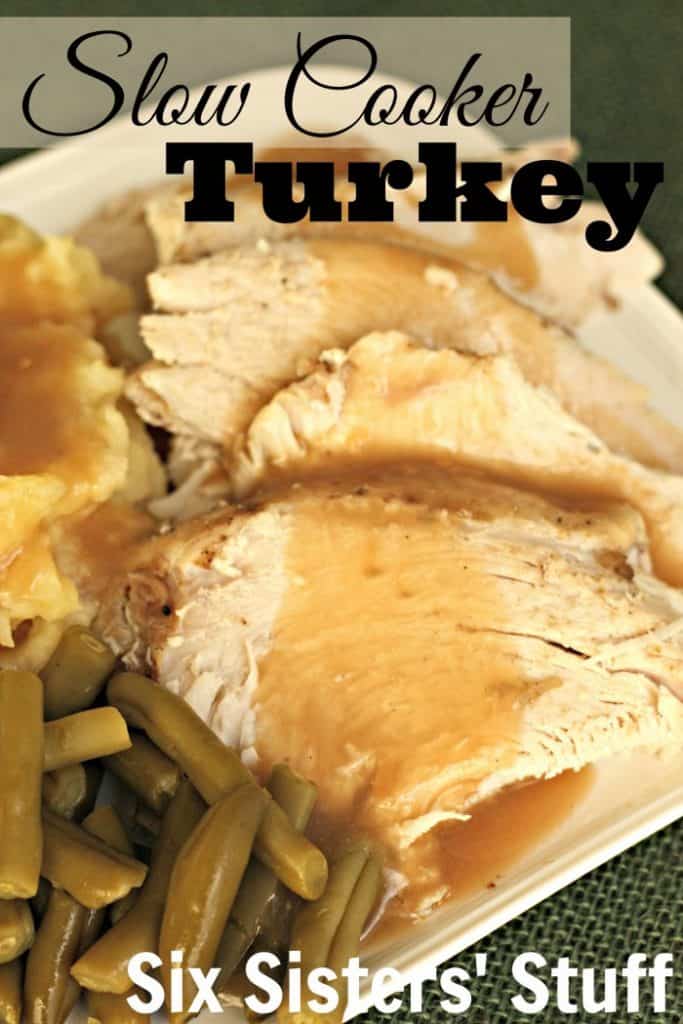 How to cook a turkey in the Instant Pot:
Cooking your turkey in an Instant Pot is similar to the slow cooker version: you will want to make sure that you use a turkey breast and that you only need turkey for 8 or less people.
CLICK HERE to see our favorite Instant Pot!
Start by drizzling the olive oil all over the turkey breast and rub it in very well.
Use your favorite seasonings and rub it all over the whole turkey breast, making sure it's covered evenly to distribute the flavor.
In the bottom of the Instant Pot, place the trivet (the wire rack that comes with the Instant Pot) with the handles up. Afterward, pour a ½ cup of water into the bottom of the Instant Pot.
Once the Instant Pot is set up, put the seasoned turkey breast onto the trivet. Continue by placing the lid on top; be sure close it by turning it all the way as the Instant Pot will not turn on if it's not secure.
To start the cooking process, press the MANUAL (or PRESSURE COOK) button and set the timer to 25 minutes. It will not start right away, so don't panic. Once it is fully pressurized the 25 minutes will show up on the digital screen and it will start counting backwards.
After the 25 minutes is up and the Instant Pot cycle is complete, let the Instant Pot do a natural release. The natural release takes anywhere from 10-15 minutes. You will know it's done when you hear the pin drop.
Now you can carefully unlock and remove the lid from the Instant Pot.
Next, lift the trivet out of the Instant Pot by grabbing the handles and transfer the turkey breast to a cutting board. Make sure to cover the turkey completely with aluminum foil and let the turkey rest for 10 to 15 minutes before cutting into it.
If you enjoy a crispier skin then throw the turkey in the broiler for about 5-10 minutes depending on how crispy you want it.
Then just cut it into slices and serve it with your favorite sides.
If your family enjoys cranberry sauce with your turkey take a look at this recipe if you are up for making it from scratch!
Here is our favorite recipe to cook a turkey in an instant pot: Instant Pot Turkey Breast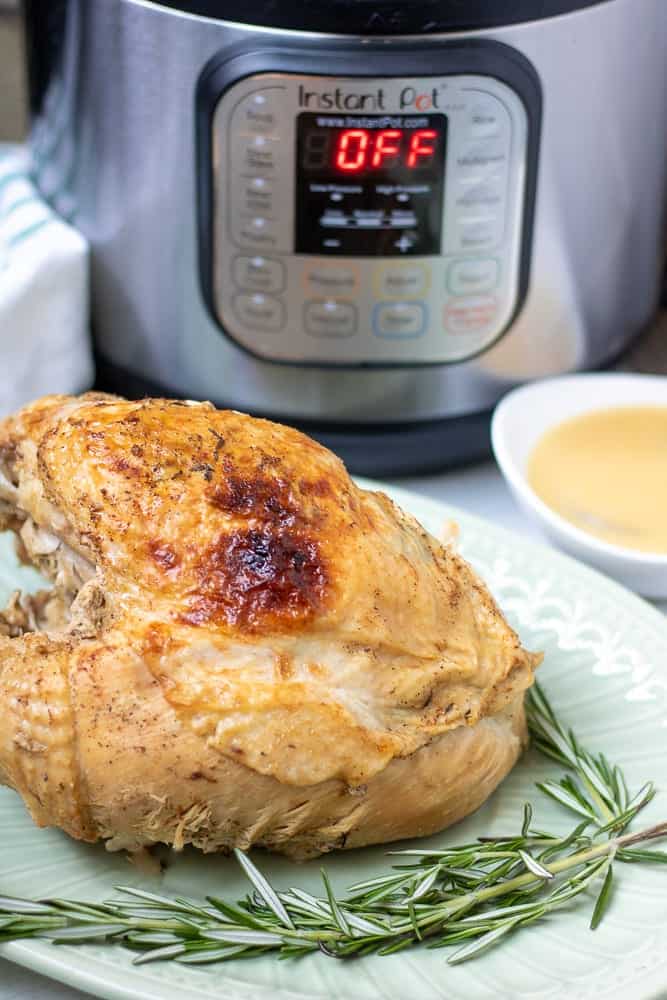 How to cook a turkey in an Air Fryer:
Because of the size of an air fryer, it works perfectly for small turkey breasts (about 2 pounds or smaller). The great thing is that it will only take about 1 hour to cook!
Season turkey breast generously with salt and pepper, then rub all over with fresh herbs and your favorite seasonings.
Place in air fryer and fry at 390º for 30 to 35 minutes or until the internal temperature reaches 160º.
In a small bowl, whisk together maple syrup, Dijon mustard, and melted butter.
Remove turkey from air fryer and brush mixture all over. Return to air fryer and fry at 330º until caramelized, 2 minutes.
Let rest 15 minutes before slicing.
CLICK HERE to see our favorite air fryer.
Here is our favorite recipe to cook a turkey in an air fryer: Air Fryer Thanksgiving Turkey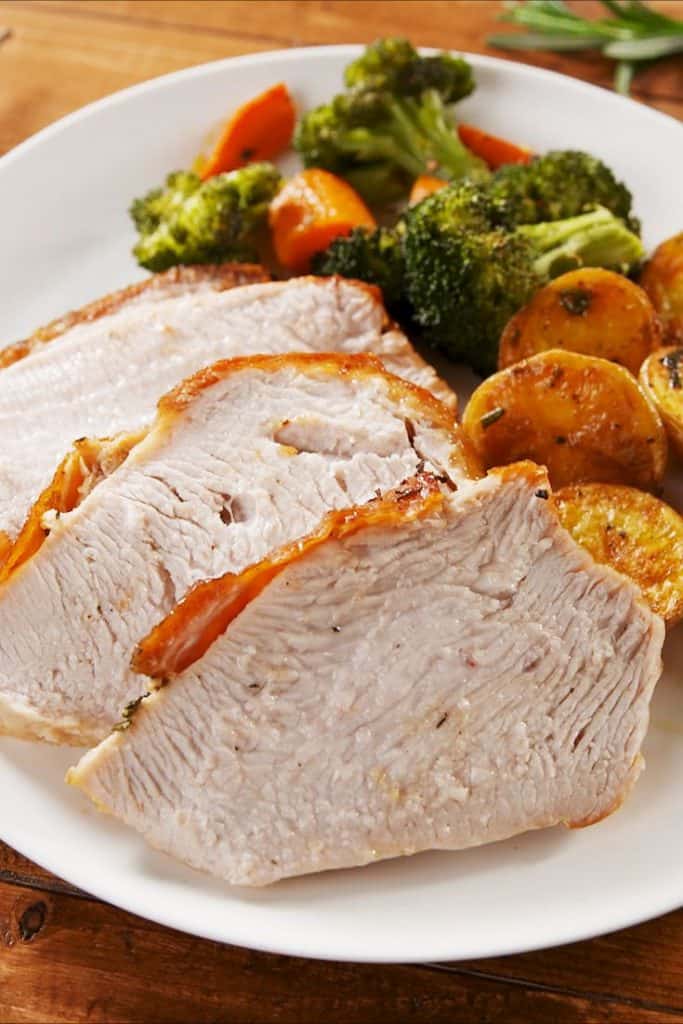 How to cook a turkey in a convection Oven:
One of our favorite ways to cook a turkey is in our convection oven.
The difference between a regular (convention) oven and a convection oven is that the source of heat in a conventional oven is stationery and rises up from the bottom. The heat from a convection oven is blown by fans, so the air circulates all over the inside of the oven. In a convection oven, the heat is distributed evenly all around the food.
If you have a convection oven, it's a great way to cook a turkey!
Preheat oven to 350 degrees F on the convection setting.
Remove packaging from turkey and pat dry with paper towels.
Place turkey on roasting pan and brush with olive oil.
Cut and loosen the skin from the turkey breast and rub rosemary and thyme onto the turkey.
Place the turkey in the lowest rack of the oven and cook for 2-2 1/2 hours, or until the internal temperature of the turkey thigh reaches 180 degrees F.
Watch how we cook our turkey here: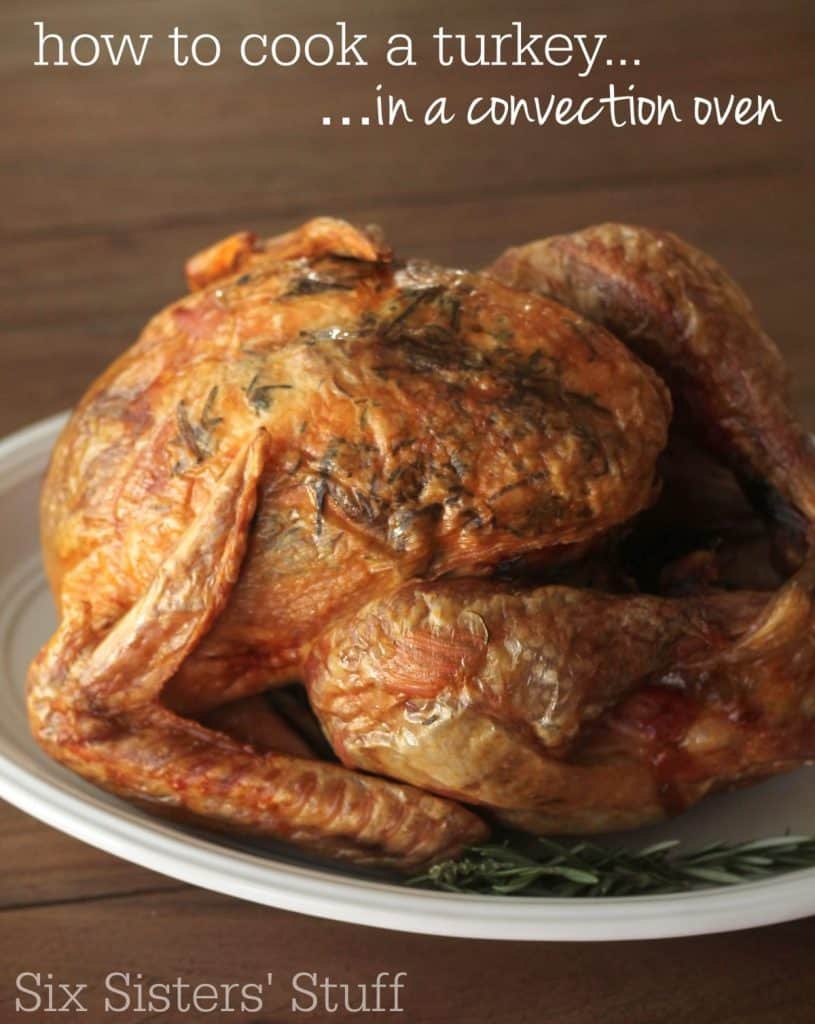 How to cook a turkey in the oven
Now to our favorite way to cook a turkey for Thanksgiving . . . in the oven!
This recipe is going to give you a perfect juicy turkey every time and it's fairly simple to do.
Lots of people also love to brine their turkey before cooking it. It's up to you if you want that, but it's not necessary with this recipe.
Follow the steps for a fail-proof Thanksgiving turkey that your family will love.
Six Sisters
Serves: 16
How To Cook a Turkey
With turkey day coming up quick you need to take a look at the best thanksgiving turkey recipe ever! Create the juiciest, flavorful, and tender turkey you've only dreamt was possible with this easy turkey recipe.
20 minPrep Time
4 hrCook Time
4 hr, 20 Total Time
Ingredients
1 turkey, thawed
Salt and pepper, to taste
1 (14.5 ounce) can turkey broth (or chicken)
4 Tablespoons butter
Instructions
Heat oven to 325 degrees F.
Remove wrap from turkey, and then remove neck, giblets, and gravy packet if one is included.
Place turkey into roasting pan breast side up.
Tuck turkey wings under and tie or clamp legs together.
Salt and pepper the inside cavity of the turkey.
Dry outside of turkey with a paper towel (don't wash or rinse your turkey because you will contaminate your sink. The bacteria will die when it cooks in the oven).
Salt and pepper the outside of turkey lightly and then baste with melted butter. Salt and pepper again.
Place the turkey in the preheated oven. Set timer based on how large your turkey is (follow directions on the package).
To check for doneness, insert meat thermometer into the thickest part of the thigh. Meat thermometer should reach between 165 and 180 degrees and the juices should run clear when the turkey is done.
After you remove the turkey from the oven, let it rest for about 15 minutes before slicing. This gives you time to get a few more things done for the big meal. Just cover with foil to keep warm while it rests.
7.8.1.2
5769
https://media.sixsistersstuff.com/recipe/how-to-cook-a-turkey-5-different-ways/
Want some other ways to cook a turkey? Try these:
Be sure to not miss another recipe!
Follow Six Sisters' Stuff on Instagram | Facebook | Pinterest | YouTube
If you made our recipe be sure to tag us on Instagram so we can see your hard work using #sixsistersstuff.
Looking to eat healthier or need help planning dinner? 
Sign-up to receive a healthy menu plan and shopping list in your inbox every week!
EACH HEALTHY MENU PLAN INCLUDES:
A WEEK AT A GLANCE
6 MAIN DISH RECIPES
2 SIDE DISH RECIPES
1 SNACK/TREAT RECIPE
DETAILED SHOPPING LIST
Every recipe in the menu plan is 500 calories or less per serving and includes nutrition information to help you stay on track!
Learn more, view sample menu plans and join HERE!