I made a couple of healthier swaps in our Big and Soft Ginger Cookies and loved the way they turned out! I am pretty sure that you can eat twice as many since they are a little healthier. 😉
If you are looking for lightened up versions of your favorite recipes, be sure to check out our Weekly Healthy Menu Plan where we email you 6 dinners, 2 side dishes, and 1 dessert like this each week!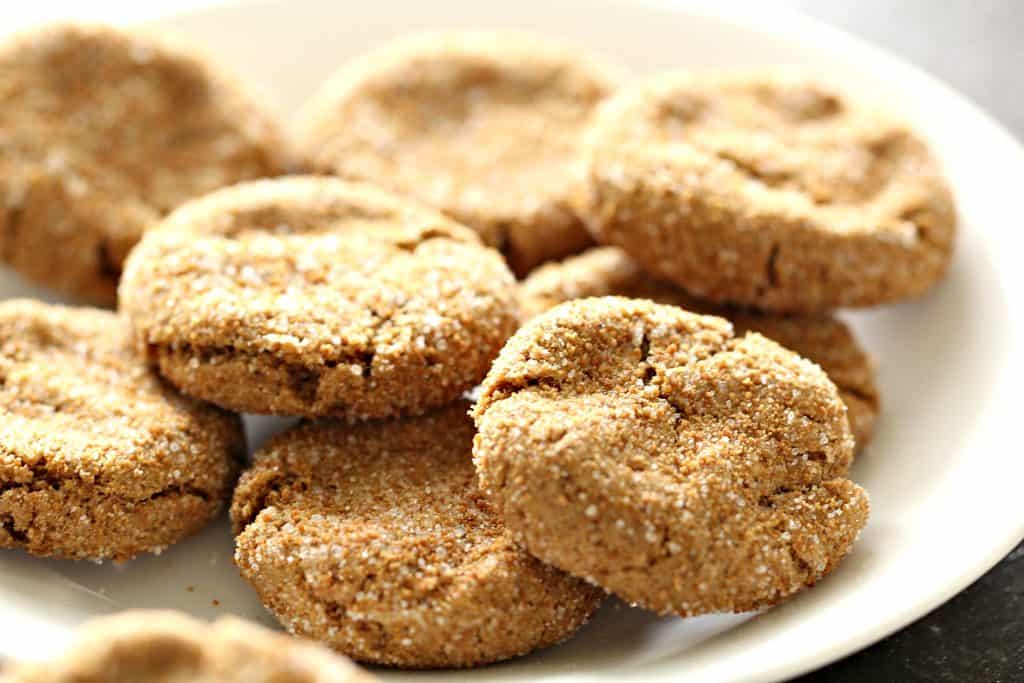 And if you need help losing weight and still want to eat delicious food that your family will love, be sure to check out our 1500 Calorie 14-Day Eating Plan for Busy Moms!
For this recipe, I did use coconut sugar as my sweetener. I just found it at my grocery store by the other sugars. I know that some people think it is a great alternative to white sugar and others feel that it is just as bad for you as refined sugar. There can be trace amounts of some nutrients like iron, zinc, calcium, and potassium found in coconut sugar and I personally like it's caramel-like taste, so that's why I used it in this recipe. You could definitely use white sugar in place of the coconut sugar.
I also used White Whole Wheat Flour in this recipe – it's pretty much all that I use for all my cooking and baking these days! I like that it's whole wheat, but it's not quite so heavy. Whole wheat white flour is made from a hard white wheat berry. It contains the entire wheat berry; the difference is in the white berry's bran and the result is a lighter colored, sweeter tasting flour. Keeping the bran and germ yields a flour with more fiber and naturally occurring nutrients. All-purpose flour is usually stripped of all the good stuff and then is bleached to get that white color. Making this simple switch to white whole wheat flour is just one of the little ways I try to help my family eat healthier. 🙂 You'll have to try it and tell me what you think!
Healthier Soft and Chewy Ginger Cookies
10 minPrep Time
10 minCook Time
20 minTotal Time
Ingredients
2 1/4 cups white whole wheat flour
2 teaspoons ground ginger
1 teaspoon baking soda
3/4 teaspoon cinnamon
1/2 teaspoon ground cloves
1/4 teaspoon salt
4 Tablespoons unsalted butter
1/2 cup unsweetened applesauce
3/4 cup coconut sugar
1 egg
1 Tablespoon water
1/4 cup molasses
Coconut sugar for rolling (optional)*
Instructions
Preheat oven to 350 degrees.
In a large bowl, sift together flour, ginger, baking soda, cinnamon, cloves, and salt; set aside.
In a large bowl, cream together butter, applesauce and coconut sugar until light and fluffy.
Beat in egg, then stir in water and molasses.
Gradually stir in flour mixture until just combined. Shape dough into 1-inch balls, roll in sugar (if desired) and place 2" apart on ungreased cookie sheet.
Bake for 8-10 minutes.
Allow cookies to cool on baking sheet for 5 minutes before removing to wire rack.
Notes
*For the cookies in the picture, I rolled them in a mix of coconut sugar and Truvia. I have only made this recipe as is, so I am not sure how it would work substituting other ingredients. I have not made with recipe without molasses, but I don't recommend it because that is what will give these cookies their "ginger cookie" taste! I know that coconut sugar is still sugar and regular white sugar can be used in it's place for this recipe.
7.8.0.1
2427
https://media.sixsistersstuff.com/recipe/healthier-soft-and-chewy-ginger-cookies/