*This post is sponsored by Camp Chef, but all opinions are my own.*
I love baby back ribs, but the thought of grilling them myself is pretty intimidating!  I surprised my husband with a Camp Chef Woodwind Pellet Grill for Father's Day and decided I was going to whip up some ribs on it to surprise him!
Luckily, Camp Chef has a fool-proof rib recipe for beginners like me so there was no way they wouldn't turn out perfectly!
I couldn't believe how easy it was to make these ribs on the Woodwind Pellet Grill! They tasted like they came from an authentic barbecue joint, and my husband couldn't have loved them any more!
Easy Smoked BBQ Ribs
Easy and delicious smoked ribs that come out perfect every single time!
1 hr, 10 Prep Time
6 hrCook Time
7 hr, 10 Total Time
Ingredients
3 racks baby back ribs
Camp Chef Kickin' BBQ Rub (or preferred rib rub)
Coarse salt

Spritz Mixture:

1/2 cup apple juice
1 1/2 Tablespoons mustard
1 1/2 Tablespoons pure maple syrup

Glaze:

1 cup ketchup
1/2 cup mustard
1/2 cup pure maple syrup
3 Tablespoons vinegar
1 teaspoon ground pepper
Instructions
Prepare the ribs by rinsing and patting dry with a paper towel. Score the membrane on the concave side of the ribs, and peel it off with a paper towel for extra grip. Salt ribs and let dry brine for an hour (if desired).
In a spray bottle, mix apple juice, mustard and maple syrup. In a medium sized bowl, mix all the ingredients for the glaze together and set aside.
Preheat pellet grill or smoker to 225° F or Hi Smoke. After the ribs have brined for an hour, spritz them using the mixture in the spray bottle. Completely cover ribs with rub and put in smoker for about 3 hours.
After 3 hours, spread glaze over the ribs and cover them in aluminum foil and continue smoking for another 2 hours.
Finally, remove the foil and cook for 1 hour, spreading more glaze over the top. The baby back ribs are ready when you can pick them up with tongs, give them a slight bounce and see a large crack on the surface of the meat. If this doesn't happen, you will need to give them more time.
Notes
7.8.0.1
2294
https://media.sixsistersstuff.com/recipe/easy-smoked-bbq-ribs/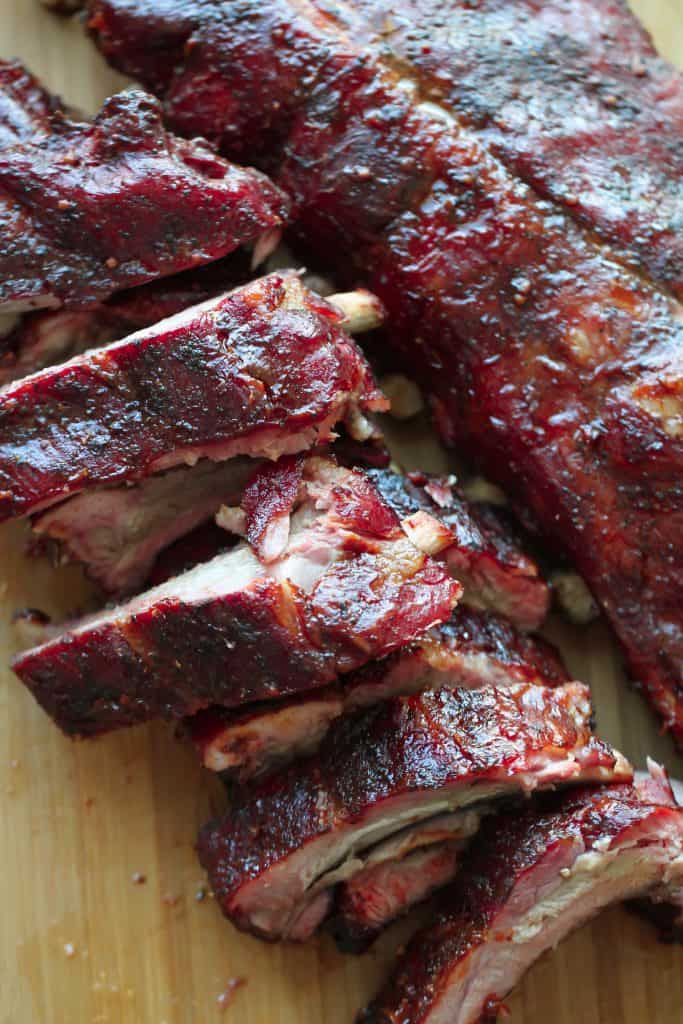 If you are in the market for a new grill or smoker, be sure to check out the Camp Chef Woodwind Pellet Grill!