Does anyone else feel like January is FLYING by? The weeks feel like days and it's all I can do to keep my head above water. With busy nights and cold weather, warm comfort food that's quick and does not require a lot of time or effort are all I've been making. I decided to take my husbands favorite (we're talking EVERY time we go out to eat) salad and turn it into something a little more hearty he could enjoy for dinner.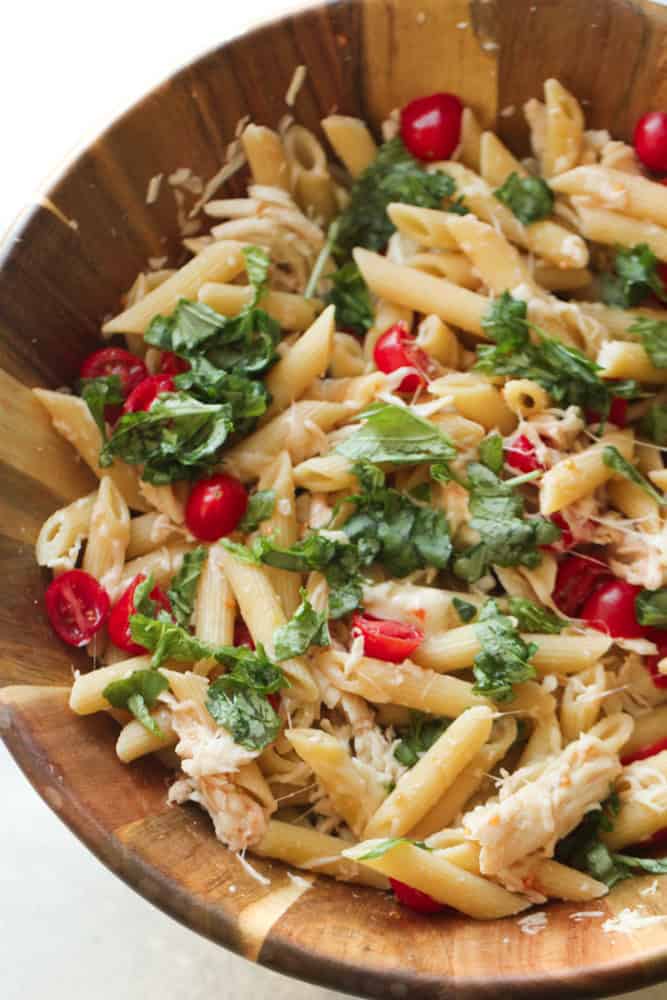 I started with my favorite Penne noodles, but any kind of noodle will work in this recipe. I would typically use a whole wheat noodle to go a little lower calorie, but these are all that I had in my pantry, and I am not about to brave that Utah cold! I boiled my noodles for about 5 minutes, not quite cooking them all the way, but softening them. I then added about 2 tablespoons of shredded basil, 1 cup of mozzarella cheese, 2 cups shredded chicken, 1 cup chicken broth, and 1 1/2 cups of chopped cherry tomatoes. Once all of that was mixed together I sprinkled some garlic salt and powder over the noodles and gave it one more stir to combine all of the flavors.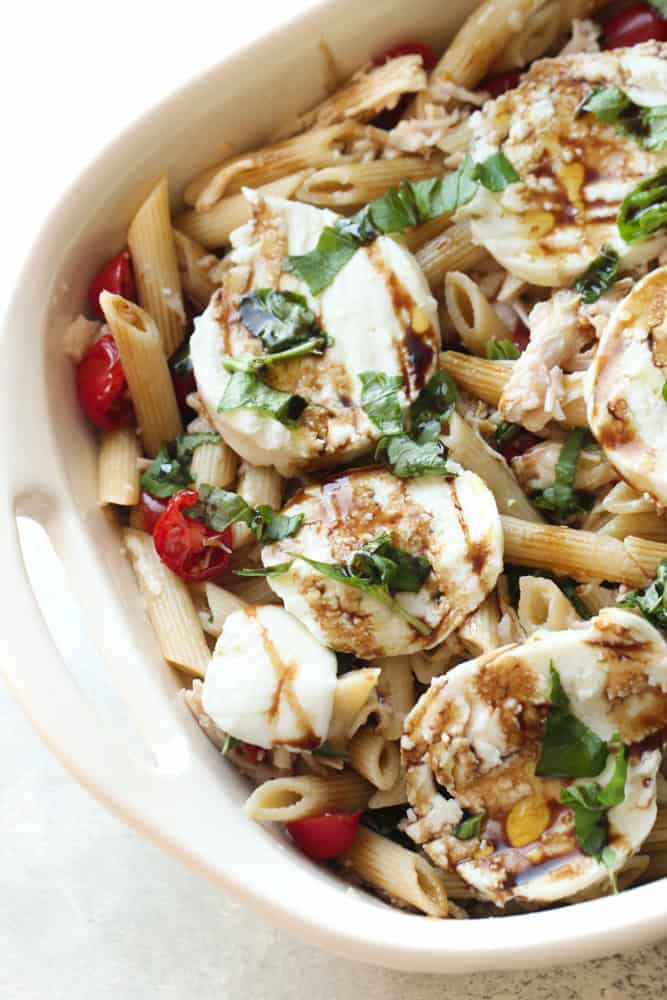 I poured a little more chicken broth in the bottom of a 9×13″ pan, and sprinkled just a little more basil. Then I dumped the noodle mixture into the bowl and spread it out evenly. A lot of the heavier toppings, like the chicken and tomatoes kind of stuck together or ended up at the bottom, so make sure to spread those out! I topped our Caprese Pasta Bake with some fresh sliced Mozzarella cheese (the cheese counter at your Kroger store has the BEST fresh cheeses.) Added a quick drizzle of balsamic and olive oil, a little more cheese (no shame) and popped it in the oven for about 30 minutes.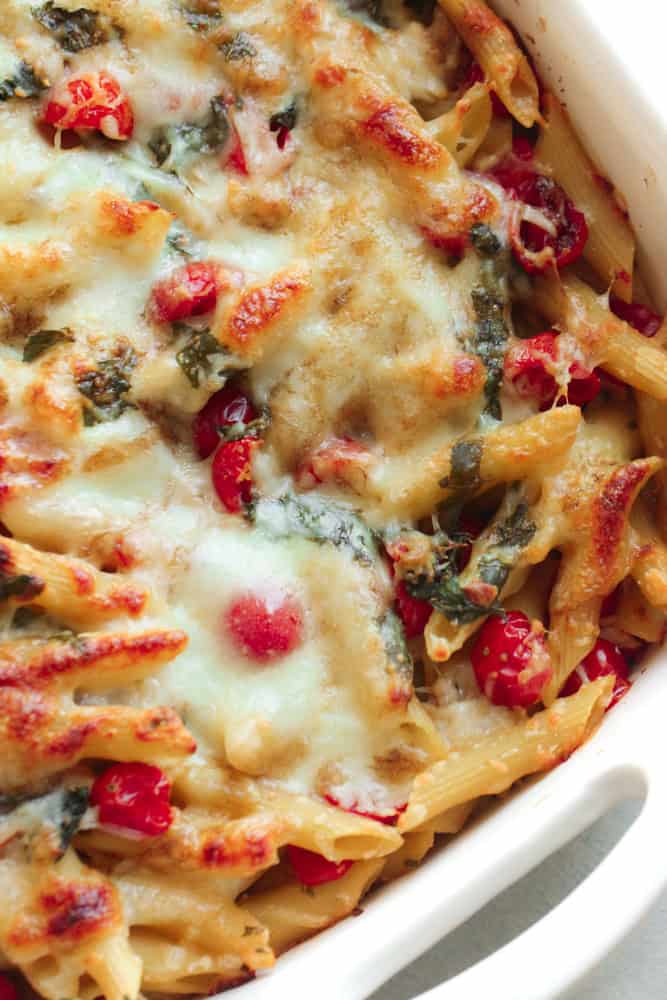 Easy Caprese Pasta Bake
10 minPrep Time
30 minCook Time
40 minTotal Time
Ingredients
1 (10 oz) box of penne pasta
2 cups shredded chicken
1 1/2 cups cherry tomatoes, halved
2 Tablespoons fresh basil, chopped
1 cup + 1/4 cup chicken broth
1 teaspoon garlic powder
1 teaspoon garlic salt
1 cup shredded mozzarella cheese
1 cup fresh, sliced mozzarella cheese
1 Tablespoon balsamic vinegar
1 Tablespoon olive oil
Instructions
Preheat oven to 375 degrees.
Bring 4 cups of water to a boil. Add noddles and boil for 5 minutes, then run under cold water to stop additional cooking.
In a bowl, combine half cooked noodles, chicken, tomatoes, basil, 1 cup chicken broth, garlic, powder, garlic salt, and 1 cup of shredded mozzarella cheese.
Pour remaining 1/4 cup chicken broth in the bottom of a 9x13" pan.
Add noodle mixture and spread evenly.
Top with sliced mozzarella cheese, covering the top as much as you can. Feel free to fill in any extra gaps with the remaining shredded mozzarella.
Drizzle top of casserole with balsamic vinegar and olive oil.
Bake for 30 minutes at 375 degrees, or until cheese begins to bubble and golden.
7.8.0.1
2457
https://media.sixsistersstuff.com/recipe/easy-caprese-pasta-bake/
Recipe Inspiration: The Seasoned Mom