We are in FULL Christmas mode over here and I couldn't be happier. I can't decide if it's Christmas that makes me so happy, or the fact that I get married two weeks after. Probably a combination of both, but I am celebrating way more than usual.
The pressures of bringing the perfect Christmas dessert to every holiday party are upon us. Because this time of year is so busy, I just can't bring myself to make a whole batch of homemade fudge, or some other Christmas candy. I took a pretty lofty shortcut and decorated some store bought, yes that's right, store bought, cupcakes with these little Christmas Tree toppers and in just a manner of minutes my party favor was full of holiday cheer!
I'd typically recommend making your own cupcakes, like Apple Cider or Snickerdoodle, something a little more festive for the season. But just in case anyone else is planning a wedding, running kids around, finishing up finals, or doing whatever else it is that keeps us so busy this time of year, I thought I'd share that sometimes it's okay to spice up an already made dessert and cut down your kitchen time.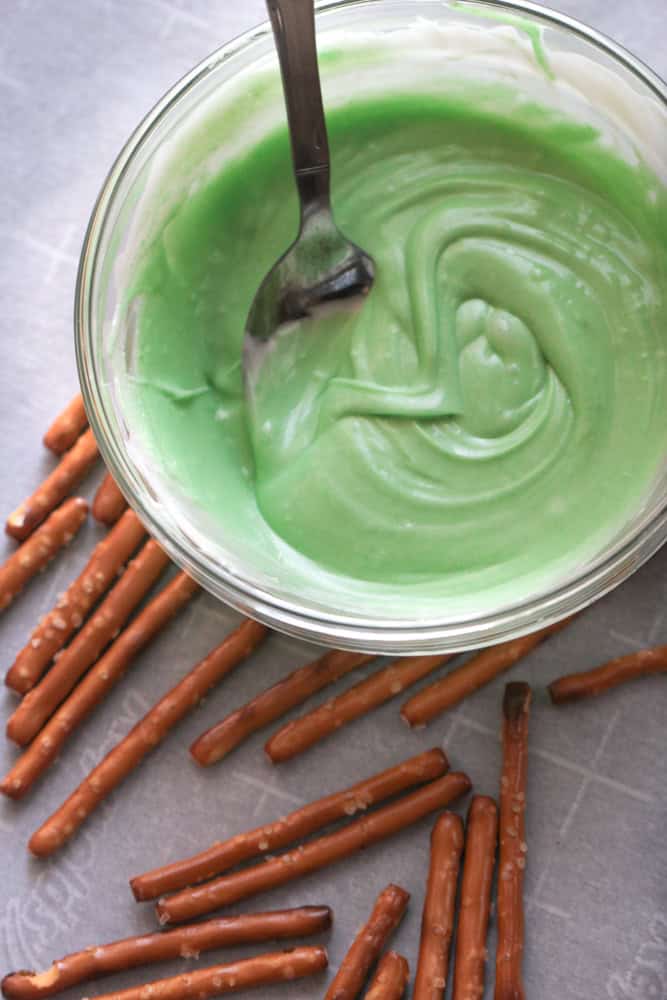 I started by melting my favorite white chocolate chips in a glass bowl until completely smooth. Then I added a few drops of green food coloring. You could definitely leave the trees white for a snowy look, or add even more food coloring for a darker green. I thought this light green was kind of cute so we stopped here!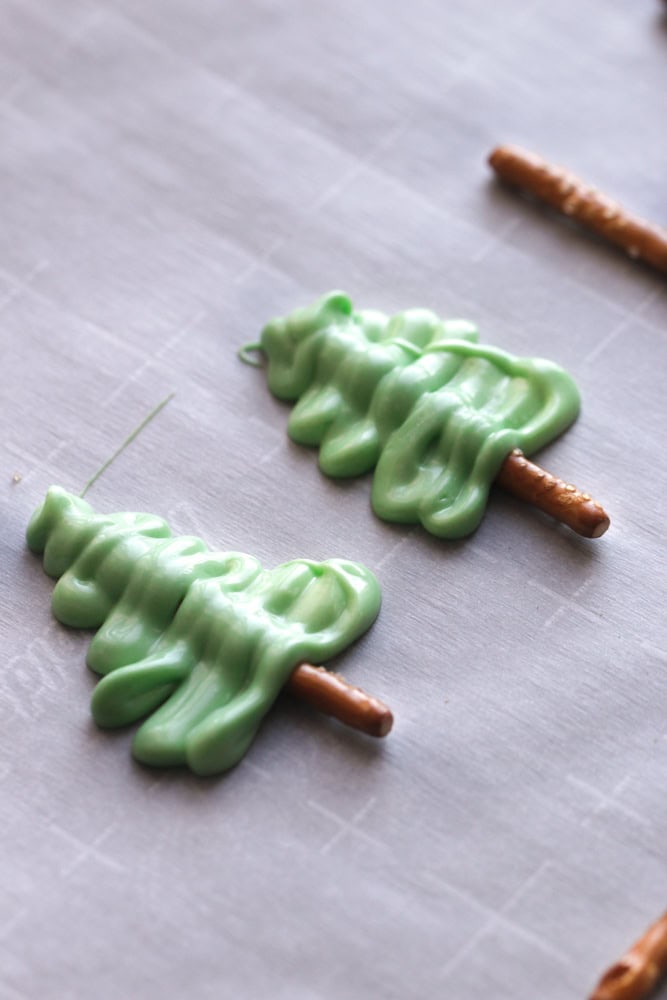 After the green chocolate is all mixed, you'll want to spoon it into a Ziploc bag, trimming off one of the bottom corners. Place your pretzel rods on parchment paper and drizzle your chocolate into the shape of a tree, leaving a small "trunk" to stick into your cupcake.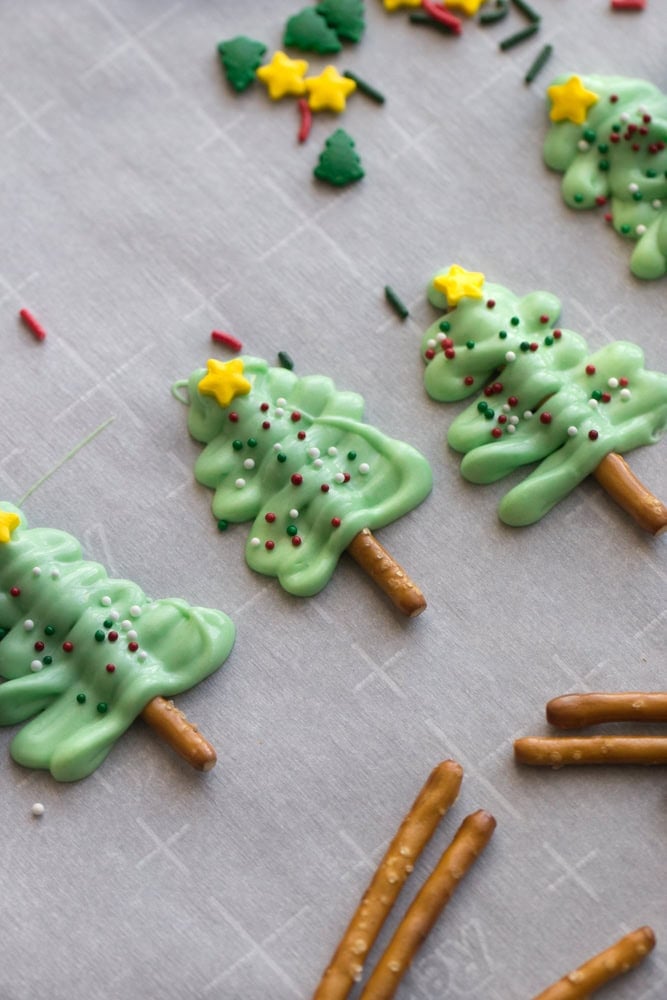 Now for the best part of Christmas, decorating the tree! I found these adorable holiday sprinkles at Kroger, they even came with sprinkle stars. Leave these trees on the wax paper to dry for about 20 minutes and you are good to go! Stick them in your favorite homemade cupcakes, store bought cupcakes, or even leave them plain for a cute chocolate covered pretzel snack.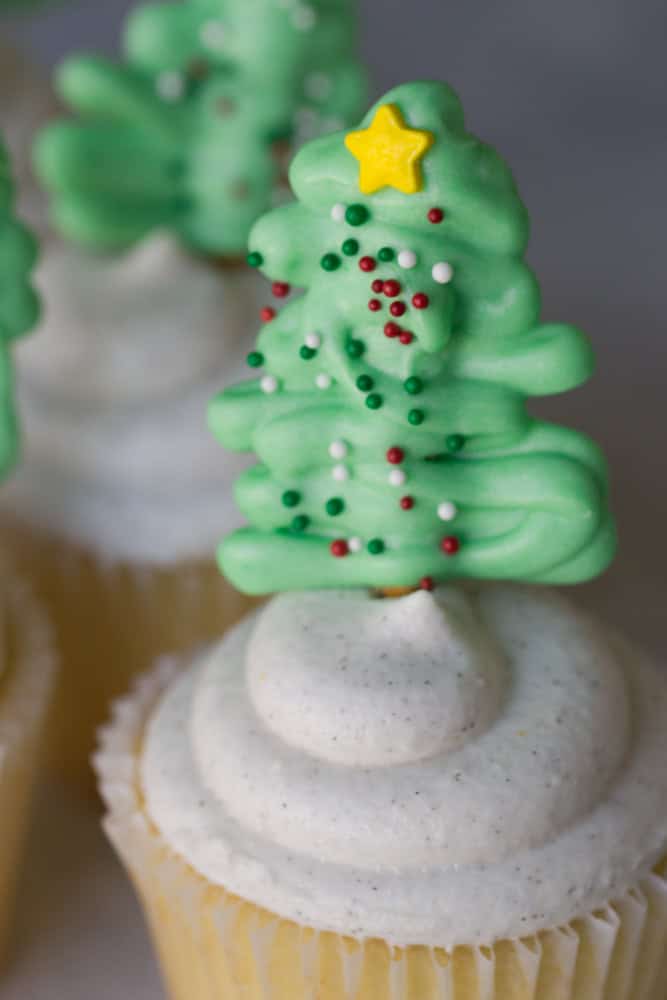 Christmas Tree Cupcake Topper
20 minPrep Time
20 minTotal Time
Ingredients
24 pretzel sticks
1 (12 oz) bag of white chocolate chips
7-10 drops green food coloring
Holiday sprinkles
24 cupcakes
Instructions
Melt chocolate chips in microwavable bowl until smooth. We find this works best in 20 second intervals, stirring after each microwave.
Stir in food coloring until combined. More or less food coloring can be added depending on desired color.
Spread pretzel sticks 2 inches apart on wax paper.
Spoon chocolate into Ziploc bag, and snip one bottom corner.
Drizzle chocolate over pretzel in the shape of a tree, small on top to wider bottom, leaving a small amount of pretzel in the bottom to stick into the cupcake. Make sure to cover most of the pretzel so the chocolate will stick to the pretzel rod.
Decorate with your favorite sprinkles and let harden for at least 20 minutes.
Place into your favorite cupcakes and enjoy!
7.8.0.1
2419
https://media.sixsistersstuff.com/recipe/christmas-tree-cupcake-topper/