This Cheesy Chicken Pot Pie is home-cooked comfort food at it's finest!
Each year, over 17 million kids are treated at a Children's Miracle Network Hospital.
In 2010, my sweet little Mason was one of those kids . . .
My mom was bathing my 8-month-old son Mason and after she finished, she had me come over and look at his neck. It looked like he had swallowed a golf ball and it was sticking out the side of his neck.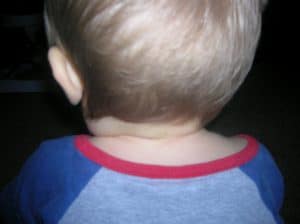 (The lump is on the left side in this picture- it was hard to get him to hold still so I could take a good picture of it! Plus he was a chubby baby, so he didn't have much of a neck! Ha ha!)
We watched it for about an hour and felt that it was getting larger right before our eyes. We rushed him to the emergency room and after an CT scan, they determined that there was something large growing in his neck. It was growing at such a rapid rate that it was going to block off his airways completely if we didn't do something to stop it immediately. The hospital we were at was not equipped for caring for such a small child, so they put us in an ambulance and rushed us to the nearest children's hospital, which was Primary Children's Medical Center in Salt Lake City, Utah (about 35 minutes away from where we were).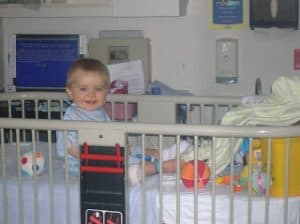 We arrived at Primary Children's around 2 am. They didn't waste a minute starting many tests, medicines, and blood work. My little Mason was tied up to so many machines and wires; he only had about a 2-foot radius in which he could move around and spent many long hours in this crib.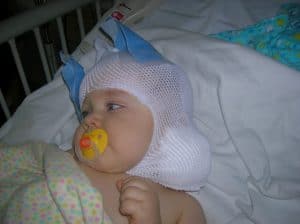 A couple of hours after surgery. Thank goodness for binkies!
The amazing doctors and nurses ruled out cancer and other scary things, but discovered that it was a lymph node in his neck that had filled with a Staph infection. They were hoping to shrink the lump on his neck with strong antibiotics, but after about 8 days of medicine (and 8 long days in the hospital), they decided that they would have to surgically remove the lump.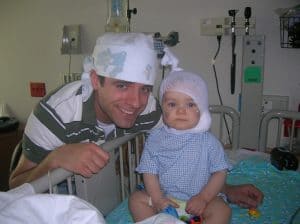 Hangin' out with Dad in matching head gear.
After a short and successful surgery, the lump was gone and two days later, Mason was able to return home.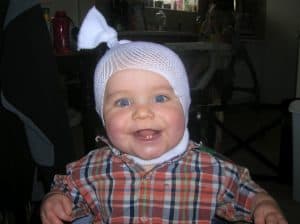 We had to change Mason's bandages a few of times a day and he had to wear this lovely head piece for a couple days afterward. Because of the wonderful staff at Primary Children's Medical Center (which is one of the 170 children's hospitals in the Children's Miracle Network), our little boy is alive and well today. I will forever be grateful for them!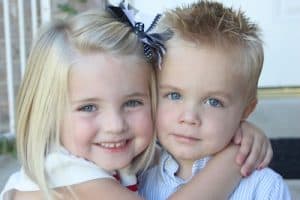 Although we were only in the hospital for about 10 days, they were a very long 10 days. I was so tired of eating at the hospital cafeteria and fast food . . . it was so nice to come home and be able to eat delicious home-cooked meals (many friends and family members brought us some of the yummiest food I have ever had!).  
You don't realize how much you take a home-cooked meal for granted until you can't have it!
In honor of May is for Miracles and the Children's Miracle Network, I wanted to share one of my favorite "comfort food" recipes. This recipe for Cheesy Chicken Pot Pie is easy to throw together and would be the perfect meal to make for a family or friend who could use a little comfort in their life. 🙂
This month, retailers across the country are raising funds to support the vital work of 170 Children's Miracle Network Hospitals. Watch for Miracle Balloons sold at stores like Walmart, Sam's Club, Rite Aid, Costco and Chico's and White House Black Market to help kids in your community.
Click here to find your Children's Miracle Network Hospital.
Click here to meet a Miracle child representing your state.
Cheesy Chicken Pot Pie Recipe (and $30 WalMart Gift Card Giveaway)
15 minPrep Time
40 minCook Time
55 minTotal Time
Ingredients
2 cups chopped cooked chicken breast*
1 cup thinly sliced carrots (or frozen carrots)
1 cup frozen green peas
2-3 potatoes, cooked and cut into bite-size pieces
1 cup cheddar cheese
1-2 cans reduced fat cream of chicken soup (I use about 1 1/2 cans- use more if you want it more creamy)
1 cup chicken broth
1/2 cup milk
Salt and Pepper
1 1/2 cups instant biscuit mix (I use Bisquick)
1 cup milk
 Garlic Powder (optional)
1/4 cup melted butter
 
Instructions
Preheat oven to 350 degrees.
Spray a 9x13" baking dish with non-stick cooking spray. Layer the chicken, carrots, peas, and potatoes in the bottom of the dish. Sprinkle the cheese on top.
Mix together the soup, broth, and milk in a bowl and season with salt and pepper. Pour over the layers in the baking dish.
Stir together the biscuit mix and milk and pour over the casserole. Lightly sprinkle garlic powder on top of the biscuit mixture.
Drizzle butter over the biscuit topping and bake until the top is golden brown (about 30-40 minutes).
7.8.1.2
1910
https://media.sixsistersstuff.com/recipe/cheesy-chicken-pot-pie-recipe-and-30/