I love going out to eat and getting a heaping serving of steak fries with my meal.  To save myself a few calories, I decided to try a baked version of some of my favorite fries at home!
Baked Seasoned Steak Fries Recipe:
(Serves 4-6)
Ingredients:
4 large, russet potatoes peeled and cut into thin wedges
1/4 cup olive oil
2 teaspoons paprika
2 teaspoons garlic powder
2 teaspoons chili powder
2 teaspoons onion powder
Directions:
Preheat oven to 450 degrees.  In a large mixing bowl, whisk together olive oil, paprika, garlic powder, chili powder and onion powder.  Add potato wedges to olive oil mixture and toss until evenly coated.  Cover a baking sheet in foil and spread coated potato wedges onto it.  Bake for 40-45 minutes or until golden and cooked through.
Looking for more delicious side dishes?
Here are a few of our favorites:
This post is sponsored by:
noVae Clothing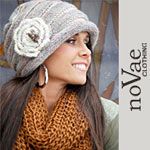 One reason we love this time of year is all the fabulous accessories! Are you looking for the perfect way to add a little something extra to your wardrobe this winter? NoVae has tons of
NEW hats and scarves on sale
& they are giving you an EXCLUSIVE coupon code too!Enter the code "
save10″
at checkout and receive 10% off your entire order with a minimum purchase of $25. Good through Saturday November 17, 2012.