As we have been putting together our healthy menu plans over on Six Sisters' Strong, we hired a registered dietitian to help us make sure that each day's meal plan had the right amount of protein, carbs, and fats to keep you energized, feeling full, but still help you lose weight.
Our 1500 Calorie 14-Day Meal Plan is by far our most popular seller! It includes some of our favorite recipes on Six Sisters' Stuff and incorporates them into part of a daily 1500 calorie diet. Finally there is a diet plan out there that includes delicious meals your whole family will enjoy and that uses ingredients you have in your pantry! You can check out the 14 Day Meal Plan here: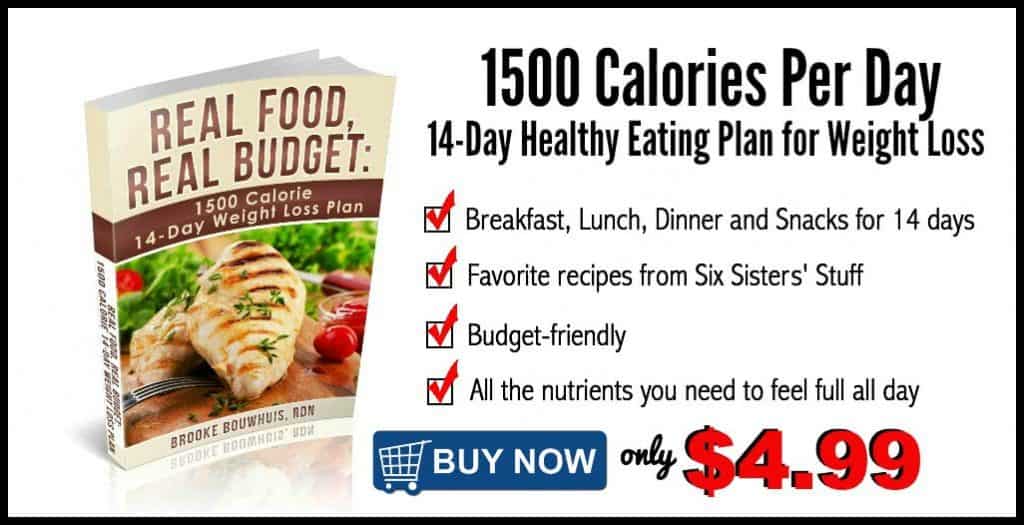 We decided to ask Brooke (the registered dietitian that we have been working with) what she recommends as far as snacks . . . here were some of her favorites that she actually eats herself each day!
1. String cheese
2. Hardboiled eggs
3. Cucumber slices with cottage cheese
4. Raw almonds (these pair well with medjool dates if you want to add something sweet)
5. Apples (slice them up and sprinkle some cinnamon on top!)
6. Hummus with raw vegetables for dipping (peppers, carrots, celery)
7. Pears
8. Skinny Chunky Monkey Cookies
9. Grapes (throw them in the freezer – they are delicious frozen!)
10. Bananas (spread some almond butter on top for added protein)
11. Thin-sliced raw sweet potato (try it! It's delicious!)
12. Homemade energy bites
13. Berries (mix together fresh raspberries, blueberries, blackberries, and strawberries for an amazing combo!)
14. Carrot sticks with homemade ranch dip
15. Watermelon
16. Green smoothies
17. Sugar snap peas
18. Orange slices
19. Deviled Eggs (try these ones made with Greek yogurt!)
20. Grapefruit
Some other tips:
–Drink water ALL day long. Have 2-4 cups of water RIGHT when you wake up, then a cup with breakfast, lunch, dinner, and every snack. Water is going to keep you hydrated and feeling full.
-Try to stick to REAL foods. Avoid (as much as possible) foods that are processed. Stick to foods that contain ingredients you can pronounce.
Happy healthy eating!
For more health and fitness ideas, be sure to check out our website: Six Sisters' Strong!